Sunshine Creativity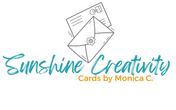 Hi, welcome to my shop. My name is Monica and I live in sunny Arizona. When I first started making cards, we lived in Florida – the Sunshine State. I just recently moved from my papercrafting being a hobby that I blogged about to deciding to open a shop and share my cards with others.
Cards can be seen as paper hugs. While there are many cards that can be purchased in stores and online, you will find them here at Sunshine Creativity made as individual cards or in very small quantities. I hand make each card. Some are colored, some have assembled die cuts on them. But each one is made with love.

I hope you may find one that inspires you to give it to a loved one as a paper hug.